Regular price
£21.98 GBP
Sale price
£17.58 GBP
Unit price
per
Sale
Sold out
FREE SHIPPING
Flying Ball ! It features an aerodynamic enclosed orb design allowing it to effortlessly glide through air leading to an extremely fun and addicting experience. Toss it up and watch it fly, float, glide, and climb before hovering back to your hand like magic!
CALL IT WHATEVER YOU WANT
"Rasengan", "The Force", "Magic" –  but no matter what – you can count on the motorized Flying Ball  to make its way back into your palm after each and every throw. Let it go and watch it fly, float, glide, and climb before elegantly returning to your hand like a boomerang! Physics in action!
SAFE FOR CHILDREN
Keep your loved ones entertained and educated for hours! Flying Ball  trains hand-eye coordination and makes for a fun workout – physically and mentally.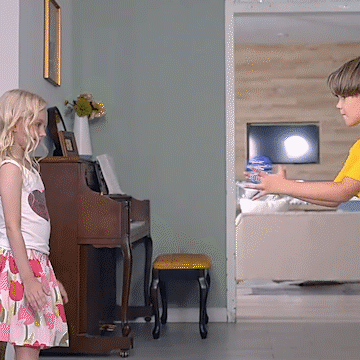 EASY TO OPERATE
When you throw it upwards 30 degree to get flying. It will spin around and return to you like a boomerang. Throw it downwards 30 degree to get flying. It will fly travels steady in a straight line.
MAGIC HAND CONTROLLED DRONE
The Flying Ball  is a cool flying toy that can find its way back to you with no remote. Different throwing angles and speeds, the flying ball drone can achieve different flight routes and skills, as well as different smooth flight modes and boomerang effects.
COOLEST GIFT FOR KIDS AND ADULTS 
Flying Ball  can be used as a great travel toy or Christmas gift. It's a creative birthday gift for your family and friends. Just shake and throw to attract the attention of children and adults.
SAFE & DURABLE
Flying Ball is a flying toy has been tested for use with children. The ball-shaped design and protective cover make it absolutely safe to grasp with your hands.
PLAY ANY TIME & ANYWHERE
You don't need a big area or a lot of space to take off with this Flying Ball , kids can have great time playing together in all kinds of parties and activities as well as the whole family.
Safety note : Not suitable for children under 36 months
View full details
Fun for indoors. It gets chaotic since it doesn't stabilize itself, but my kid enjoys it!
great product, fast delivery.